The Polish ANSP PANSA is one of the most advanced in Europe regarding the integration of unmanned traffic management into with air traffic control. Thanks to the PansaUTM system, they can now manage missions fully digitally. This finds a particular use in the times of COVID: drones are used to fly samples to be tested between different hospitals in Warsaw. Even if traffic is very limited because of the crisis, the drones must be integrated properly and this is where PansaUTM shows its value.
The paragraphs and images below are extracted from the full press release by PANSA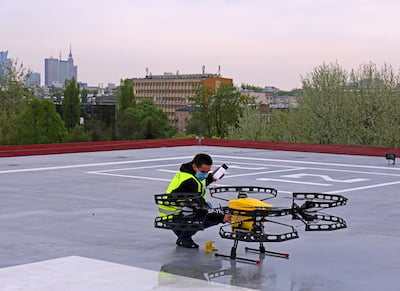 Photo: PANSA
On Wednesday, 29th of April, a pilot project was carried out to transport samples for testing for the presence of SARS-CoV-2 virus using a cargo drone. The flight beyond the visual line of sight (BVLOS) was operated between Hospital in Wołoska Street and Hospital in Banacha Street. Such flights would not be possible had new regulations regarding BVLOS not been implemented on the 31st of January 2019.
The drone with a cargo module was flown between the two hospital's landing pads. The package with the samples was loaded into the drone at the first Hospital and then transported to the University's Hospital. The whole operation including loading and unloading took only around 15 minutes, the flight itself only being around 3 minutes.
Use of drones for medical transport in the times of pandemic could not only accelerate the transport of samples for testing for the presence of the virus, but also optimize supply chains from hospitals to certified laboratories helping use them to their full potential.
"It is a step towards thinking of a practical use for drones in different aspects of everyday life, or in this case the possible use of drones in the fight against the coronavirus" – says Janusz Janiszewski, PANSA CEO. "Such advances flight service including visualizing the drone's location in real-time combined with basic flight parameters thanks to the dedicated transmitters and receivers would not be possible without PansaUTM – a solution allowing for a safe coordination of UAV flights, which translates into a possibility to integrate unmanned aviation into conventional, manned traffic" – Janiszewski adds.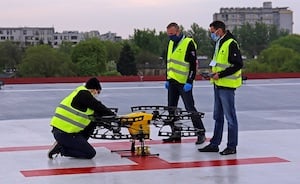 Photo: PANSA