Avinor ANS in Norway recently published a call for tender for a country wide Unmanned Traffic Management (UTM) system. Axel Knutsen, Head of UAS at Avinor Air Navigation Services discusses the details in this article.
UAS have been a topic for a few years now and this trend seems to accelerate lately. For how long has Avinor been working on UAS and what is the timeframe for the next steps?
Avinor ANS have been involved with UAS for several years, but we noticed a change in 2017 when there was more and more demand for airspace along with a significant growth in professional and recreational users. These new users of the airspace have other demands and needs than our traditional airspace users, and we started a more active approach towards UAS.
With our tender we have chosen to focus on the next 3 – 5 years, and we aim to safely integrate UAS into the airspace. Rapid developments in the U-Space program along with the necessary regulatory framework will be both important and challenging at the same time. If we add Urban Air Mobility into the mix, it should be exciting times for all stakeholders using the airspace.
The range of UAS applications is quite large, from recreational to commercial and may be soon cargo and even people transportation. Which users will Avinor target with the coming UTM system?
The range of UAS applications is indeed quite large, which is also part of the challenge. In our experience, large parts of the UAS activities in Norway is focused with the scope of commercial and recreational use. UAS for cargo and transport of people is not that developed yet, but we aim to safely integrate all users of the airspace.
Which level of integration shall the coming UTM system have with the ATM system? Is it about allowing pilots to fly outside of controlled airspace, or will it also manage UAS flights in close to airports? Will the ATCO then see the real-time position of the UAS?
Avinor ANS tender is for a stand alone UTM system, separated from the ATM system. Our Air Traffic Controllers receive requests to fly in controlled- and uncontrolled airspace, but a significant amount is in close proximity to airports. As previously mentioned, it is our view that it is important to safely integrate all users of the airspace.
Are there specific challenges and use cases for UAS in Norway? The helicopter traffic to the oil rigs in the North Sea is quite dense, are there UAS projects in this direction?
We are aware of several interesting use cases, including UAS to or between the oil rigs in the North Sea. There are as well others related to arctic operations, weather and transport of organic material such as blood samples. Avinor ANS is not an active part in any of the mentioned use cases.
At least since the Gatwick events, rogue drones are getting a lot of attention. Is the call for tender also covering the detection and possible defence against rogue drones? Or do you have other plans for this?
Our tender is for integration of UAS in the airspace. However, we believe that a UTM system could be an important tool in reducing the amount of incidents around airports. Easy access to airspace information and rules and regulations will benefit unaware or uncertain UAS operators.
---
About the author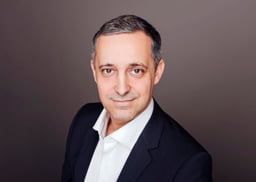 Vincent Lambercy is a freelance Air Traffic Management consultant with over 19 years of international experience in technical, project management and sales roles with various organisations. He is the CEO and founder of FoxATM and the editor of the FoxATM Market Radar where weekly reviews of the ATM, UTM and airport industries are published. Subscribe to the newsletter to never miss an update.