Micro Nav recently supplied East Midlands Airport with an ATC simulator that will be mainly used to inspire students to consider a career as an air traffic controller. We discuss this but also the simulation industry and more with Micro Nav's managing director Greg Pile (click here to scroll to Greg Pile's short biography).
The product you provided to East Midlands Airport targets students about to enter the work force, and helps them to consider a career in ATC. How is it different from your usual BEST product? Did you have to simplify and gamify ATC to make it more accessible?
We are fortunate to have a best in class simulation technology product suite, it's designed to be versatile and scalable. Micro Nav's BEST (Beginning to End for Simulation and Training) product, is a comprehensive turn-key solution meaning all the advanced feature sets are included in the software, accessed through licenses, and can be configured to meet every operational and training demand put before us by our global customer base of ANSP's, airports, ATC colleges and military training units. We drive our products forward by consistently and continuously developing the system features in line with the ASBU and SESAR technical requirements where appropriate, and we also enjoy the challenges presented by our users' specific operational requirements. BEST is customisable, scalable and flexible, and meets our customers' ever-changing ATC simulation requirements.
In the case you're referring to, East Midlands Airport purchased our entry level BEST Tower Foundation solution. They are very active in supporting their local community and came to Micro Nav with a need to be mobile and flexible, and with a human factor challenge to have an eye-catching toolset to attract young talent within schools, colleges and at career fairs. They're a business conscious unit, so any investment needed should also be usable for some of their operational needs was also, quite correctly, a requirement. So, this new system will augment their existing simulation capability we have provided to them which delivers their existing advanced ATC training needs and also supports airspace and airport design and evaluation.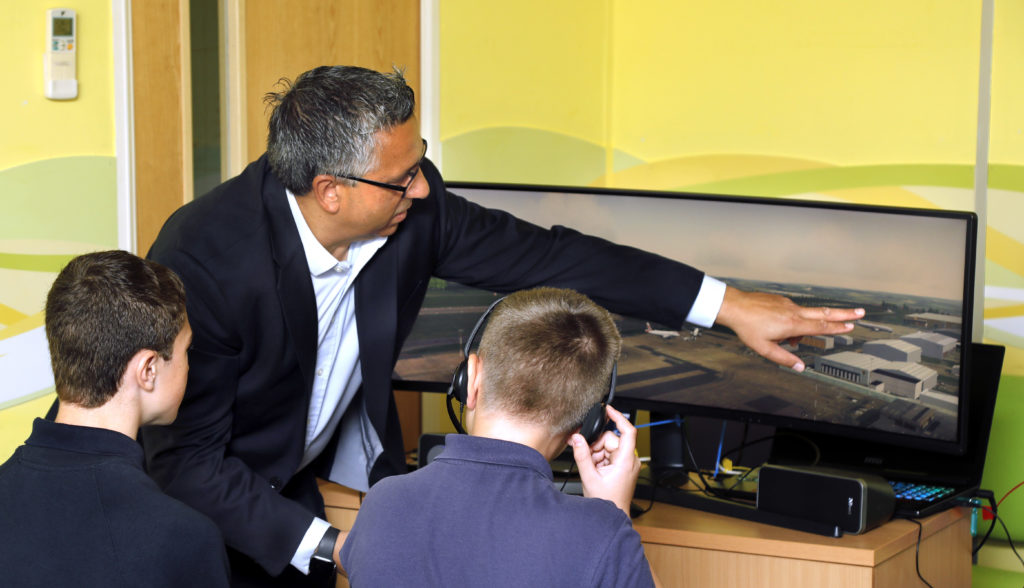 For this request, no simplification or gamification was needed, our response was not to design something from scratch, instead we proposed this powerful but compact ATC simulator package that provides all the functionality and is suitable for mobile applications for training, trade shows or demonstrations as required. East Midlands Airport has configured their installation as a mobile solution to introduce students to this industry, inspiring the next generation of Air Traffic Controllers.
This simulator package is both portable and voice activated. What were the challenges to achieve these qualities? Is this something that is already present in your other products or will it benefit to them too?
Micro Nav launched the BEST Tower Foundation package in 2017 to meet a demand for a more compact simulation solution. Many of our customers are small airports that don't have the space for a big scale simulation solution. Although they may need to compromise on scale, they don't want to, and shouldn't have to, compromise on functionality. As BEST is a single solution product, our customers can choose what functionality they need from their simulator, including BEST Speech, the speech recognition system. Speech Recognition technology reduces the reliance on, and cost of, a physical pseudo pilot, a skilled person who simultaneously operates multiple aircraft in the simulated environment in line with the air traffic controller's instructions. BEST Speech allows controllers to train on their own, to increase their time on the simulator. This feature is also attractive to organisations who are looking to reduce operational costs, so more training can be conducted using fewer human resources.
Speech recognition and speech synthesis have been around for a while in many domains. Are we now to the point where simulator pilots are no longer needed or is the quality of the recognition not there yet? Are there domains in which pilots are better than computers?
For certain targeted applications in our industry I would say yes, but for advanced complex front-line training there is still some way to go to provide authentic operator immersion. But this is where we must consider recognition versus comprehension and response. So the actual speech recognition technology is good, and is moving forwards all the time, we all see this in everyday technology devices in our homes, cars and mobile technology.
The real challenge is using that in an applied way that is appropriate to a complex ATM scenario, whilst ensuring the end user experience is not affected or dulled in any way. So, whilst I have no doubts that AI will become capable of this standard, at the moment it's not quite mature enough for our needs. We take the user experience to the core of our philosophy and will not push new tools to market before they're ready.
Micro Nav is working on improving this as we recognise and understand the commercial need to resolve this challenge. We are also developing our Quadrant INTERACT™ product for use by Full Flight Training Devices in the commercial pilot training domain. Flight crews using Quadrant INTERACT™ can be fully embedded with real-time dynamic other traffic and automated ATC, delivering a synthetic environment for scenario-based training. Quadrant INTERACT™ supports realistic crew workloads and the development of core pilot competencies, including situational awareness and communication. We are in
advanced trials with several pilot training organisations around the world, and selected tier 1 simulator OEMs providing the latest Boeing and Airbus devices and are providing direct input to move this technological breakthrough forward to front line delivery. This new technology is helping us to improve our machine learning, speech recognition in ATM plus our AI capability and this technology will flow back into our Air Traffic systems.
Are we going towards "home training" for ATCOs, at least for some specific needs?
Whilst the age of mobile apps is ingrained in our society forever more, we must be cognisant of the safety critical nature of what we are trying to teach or simulate. For certain elements of the training syllabus, home training already exists, but this is for simple radar vectoring and simple tower skills repetition. We are ready and of course more than capable to deliver more, but not before the industry asks for it, and so far we see little to no actual requirements of this type coming through the project pipeline, nor do we get asked for this by our existing users, so far.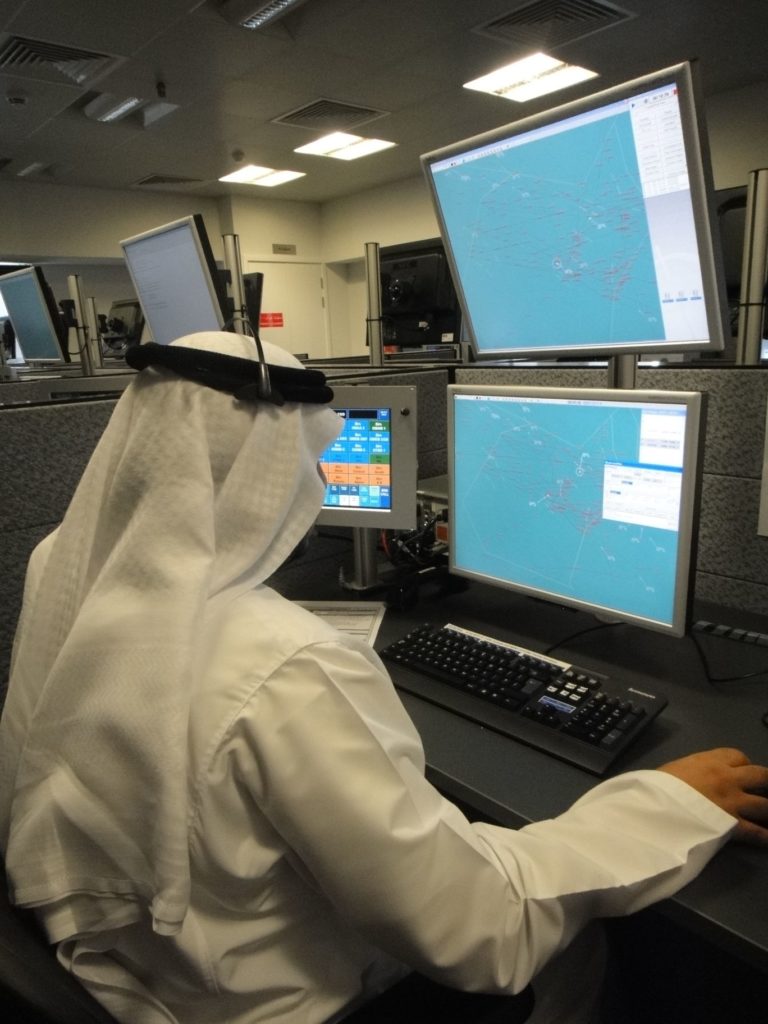 ATC simulators used to be technically complex but portability is now a reality. Can you tell us more about the hardware setup required for your new product?
This project was delivered using COTS hardware, running on Microsoft Windows operating systems. ATC simulators are still technically complex and offering high fidelity training solutions is a core value for us. By default, Micro Nav uses commercial off the shelf hardware for installations, meaning customers can source this element of their solution themselves, or task us to provide the full turn-key package. This makes the product scalable, and therefore customisable to the customers budget and installation space available. The only area where we offer an alternative to a standard hardware solution is with our award-winning projected display capability called ADAS (Automatic Display Alignment System) for which we received the Queens Award for Enterprise in Innovation in 2016, our second award from Her Majesty, the first was in 2010 for Enterprise in International Trade.
The East Midlands project is not the first time our simulation system has been used in a more compact and versatile way.
Skyguide had tower simulators installed into repurposed industrial vehicles to provide training to many of their smaller tower clients and the military airbases, and Entry Point North created a mobile simulator box to make ATC simulation more transportable. More recently we delivered air battle management and fighter control, with integrated communications to a military customer in South East Asia, where the requirement demanded hardened military grade laptops. In short, if a customer has a challenge, we have a team of software and hardware experts who can resolve it.
You're personally looking back at over two decades in ATC simulation in one role or another, what do you consider as the most significant changes, improvements and surprises?
The rapid industrial advancements in information technology obviously plays a vital role in the improvement of controller training using simulation. Using COTS hardware wherever possible in simulators means organisations can more easily keep up to date with the latest capabilities delivered through advancements in technology. The reducing cost of COTS hardware over the past few decades has meant upgrading or adding to installations gives flexibility to meet ever growing operational demands.
The speed of computers and the flexibility of our software has given users more control over the use of their simulation systems.
Bespoke exercises can be created in much shorter times, meaning establishments can run training for more students in less time, saving valuable resources.
Instructors are benefitting as well, they now have access to better tools to do their job in training controllers. The flexibility and customisability of simulation software allows instructors to create bespoke training scenarios, whether for civil or military applications, and the in-built features for record and replay means student assessments can be tracked, reviewed and evaluated, providing both the instructor and students a broader training spectrum. Previously this was a challenge if there was a dispute, so we are now able to cleanly resolve conflicts with data.
Through the advances in the games industry, the 3D element of a simulator has grown greatly in fidelity, so controllers are training in a simulated environment that resembles their working environment more closely than ever before.
A nice surprise I had recently was after I talked with one of our customers' ATCO's who had just come out of a large scale 360 tower simulator. She told me that during a core part of her annual emergency training session she had forgotten that it was a simulator. The standard of high-end systems is now able to fully replicate the ATCO working position, and with the advancements in projection technology, image generators, backed up by realistic complex traffic scenarios driven by professional staff, our front-line controllers are really getting tested to the limit. She believed it was real - things have moved on from the early days when it was just a "sim run".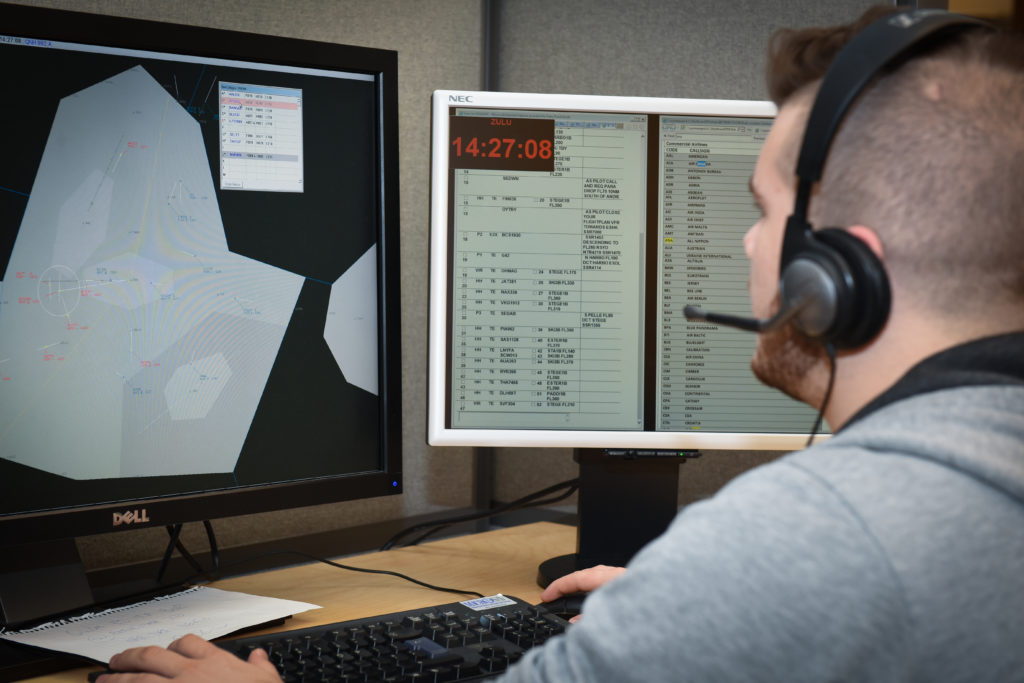 Technology keeps progressing, innovations like artificial intelligence seem to impact every industry and ATC is no exception. Do you foresee specific AI use cases in ATC training? Are you already working on such topics?
AI is a disruptive technology that can bring immense changes to the ATM world, but the challenges to bring this technology into a 24/7 operational environment cannot be underestimated. In order for the users to trust this technology they first need to adapt to it and reach a point where they can trust that the information received is correct. This is where the simulation can bring great benefits.
You took over the role of Managing Director at Micro Nav three months ago after one and a half years as Operations Director. Will you bring the company in a new direction or will you lead in continuity?
If a business stands still it will eventually die, and I have no intention of standing still. Last year Micro Nav celebrated 30 successful years in ATC simulation and training. We are proud of our heritage and our industry leading simulation product suite, created by controllers, for controllers. Of course, as with any change at the top, and with a constantly evolving market, facing different challenges and demands, a new direction will be inevitable, and you will see us breaking into new regions and deploying ever more useful tools, and services.
I am driving investment in our core simulation technology of course, and we are branching into new domains, through products such as Quadrant INTERACT™ as previously discussed. I believe that any business is the result of the sum of its people, and we are making sure we have the right staff in the right roles with the right training. So as much as I am investing in technology, I am driving investment in our people.
As part of our new company strategy I have introduced a new Vision "Making a positive difference to the world through simulation" and Mission "Delivering outstanding simulation solutions enabling our customers to excel". I hope you will see this in everything that we do moving forward.
---
About Greg Pile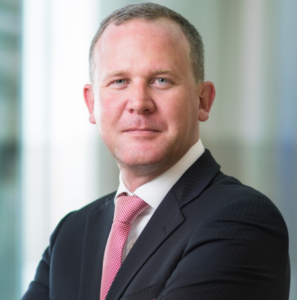 Greg Pile is the Managing Director of Micro Nav and is a leading global expert in Air traffic Simulation. After two decades moving through various service delivery, management, leadership and consulting roles in Skyguide, Serco Middle East, Dubai Air Navigation Services and NATS, he has now taken on the challenge of leading a technology company. Greg has front line experience delivering all types of civil and military air traffic simulations and has also designed and delivered some of the most advanced ATM simulation systems in operation today. In 2013 he was awarded the "Technology Implementation of the Year" prize at the International Aviation Business Awards, for delivering the worlds largest tower simulator into the Dubai Operation. He also has a broad understanding of aviation security, specialising in IT, and spent time as the vice chair for the CANSO aviation security working group.
---
About the author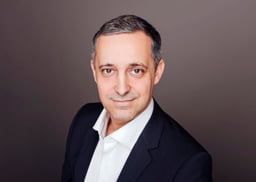 Vincent Lambercy is a freelance Air Traffic Management consultant with over 19 years of international experience in technical, project management and sales roles with various organisations. He is the CEO and founder of FoxATM and the editor of the FoxATM Market Radar where weekly reviews of the ATM, UTM and airport industries are published. Subscribe to the newsletter to never miss an update.