MetSafe recently completed the integration of a SWIM-based weather service with the French ANSP DSNA. Kamel Rebaï, MetSafe's CEO and founder, discusses this pioneering project and what it means for a small company to be one of the suppliers of an ANSP.
Kamel, can you tell us more about MetSafe, the company's history and its present position on the market? Do you consider MetSafe a start-up or a more classical SME (Small and Medium-sized Enterprise)?
At the end of 2017, MetSafe was created to develop meteorological services for ATM.
The need to go beyond regulated meteorological products for ATM was evidence first because it was extensively established by SESAR1 activities and then totally backed by my own personal experience.
I have worked for 15 years as an ATM system engineer and project manager in DSNA on various operational projects (DataLink, 4-Flight). I then developed a meteorological expertise in Météo France as head of development and studies during the last 6 years before MetSafe creation.
In short, the use of meteorology in the aviation community is suboptimal whereas the impact of weather is huge both in the cockpit and in the ATC room. SWIM (System Wide Information Management), the new paradigm for exchange of information in ATM, was the spark to launch a company as it gives the technical key to a smooth MET/ATM integration.
MetSafe solution relies on a cloud-based web services platform that exploits meteorological data. Core services accessible through an API (Application Programming Interface) allow a SWIM direct access to real-time global meteorological data with ensured quality of service. The first natural use of core services is weather visualization, but it can also be exploited in the automation process. More advanced expert services will provide a decision support tool for meteorological related decisions, such as weather regulations.
Our primary source of global meteorological data is provided by Météo France and Meteorage through a commercial agreement. Beyond that agreement, a wide range of meteorological data sources is open, relying on open data policies in Europe and the US.
In terms of market, a set of early adopters have integrated our services for their own products or operation:
Opticlimb, a fuel optimisation solution by Safety Line,
smartSIS Solution by Frequentis,
4Me by DSNA.
Are we a start-up?
There is no well-established European definition of what a start-up is versus an SME. This name calls to mind a lot of images, some of which I am not comfortable with. However, MetSafe is less than 2 years old, we revendicate creativity and agility so I would say yes, we are.
What is the scope of your project with DSNA, its timeline and if you can talk about that, the next steps?
DSNA has launched an ambitious innovation program with a focus on SWIM, fast delivery to operation and on internal communities that collaborate to design and develop new services.
SWIMET is the meteorological component of this innovation programme.
The initial scope of the SWIMET project is the provision of real-time weather information (thunderstorm detection by radar and satellite, lightning detection, graphical SIGMET…) on the Controller Working position for the complete French En Route Airspace.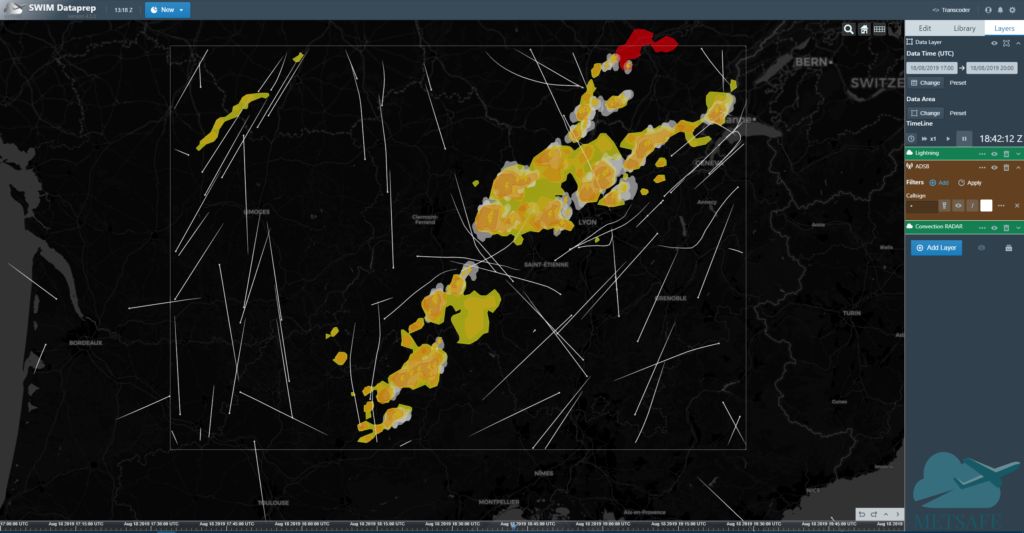 The chosen solution was to work with the 4Me community, that involves developers from all French ACCs and receives support from DSNA's technical directorate to develop an innovative platform that delivers the power of web services to the working position through a web HMI.
The timeline was quite challenging since DSNA planned a first implementation in July 2019 whereas the SWIM service provision contract was awarded in May.
In a matter of weeks, our service successfully went through technical testing and qualification by DSNA/DTI (Direction de la Technique et de l'Innovation), the French ANSP's Directorate of Technology and Innovation. In parallel, the 4Me project performed the technical integration of our services.
By the 10th of July, 3 French ACCs (Bordeaux, Reims, Marseille) were successfully equipped with enhanced meteorological visualization. As a result, ATCOs have now a better situation awareness and can anticipate the impact of adverse weather on air traffic.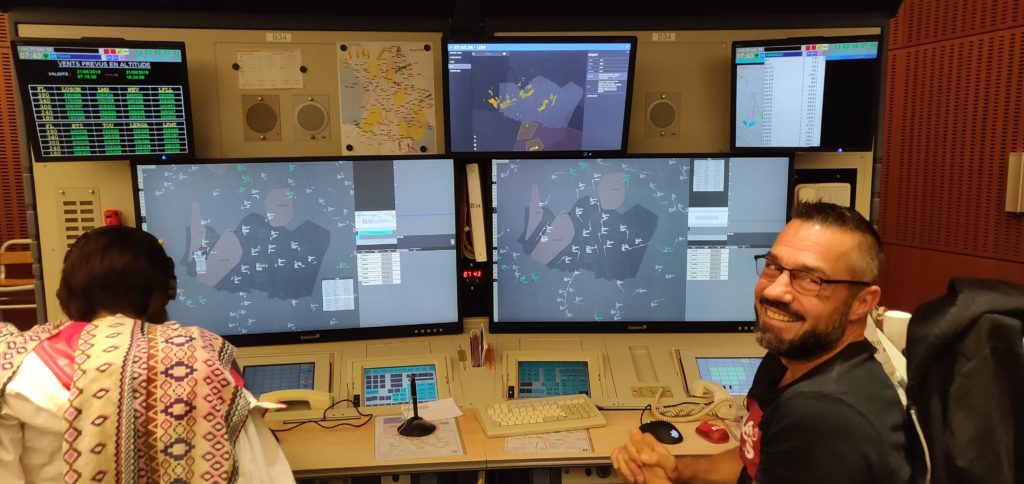 The next step is to extend SWIMET coverage to Paris and Brest ACC by the end of this year.
Beyond 4Me, we have identified a number of system or activities that could benefit from SWIM Meteorological services. Results from this summer operation will open the discussion with DSNA about expanding the scope of SWIM meteorological service users in DSNA.
As a start-up, we have a strong focus on R&D leading to fast industrialization. SESAR Engage supports us to build the foundation of an expert service dedicated to supporting ATFCM decision-making in relation with network weather regulation. For 2020, we plan to propose this first expert service to DSNA and potentially other interested ANSPs.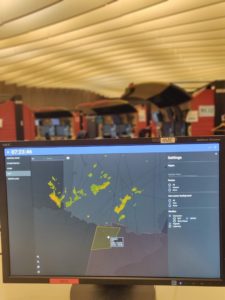 The supplier selection process of ANSPs can be lengthy and demanding. How was it to go through the tender phase as a smaller company? What were your advantages and disadvantages in the process?
In the case of DSNA, the rule of public procurement applies and as you know, they entail a very strict process for the industry. Start-ups entering public procurement is still marginal.
Technically we were very confident with our solution. We knew we had designed and developed an ATM-Grade web services platform capable of delivering an 'always-on' service.
Another advantage was my knowledge of the process built on 20 years of procurement as a public buyer. The entry ticket is usually high for start-ups because they have to understand the rationale behind public procurement.
We carefully analyzed DSNA call for tender before tendering: The time you spend working on public procurement is the time you don't spend on your product or with other customers, perhaps more accessible.
In term of disadvantages, this is where the term start-up is not very helpful. When choosing their provider, ANSPs favors rightfully perennity and stability. Start-ups can be associated with a risky short-lived enterprise. We had to demonstrate during the negotiation that we were here for the long run. We had also to demonstrate the stability of our capitalization. Big names of the industry usually don't undergo the same scrutiny. This was an additional burden during the negotiation.
On the bright side, the French government has launched an experimental procedure called "innovative public purchase", with the objective for innovation to represent 2% of all purchases by 2020. At the scale of DSNA, this opens a new perspective for ATM start-ups.
On the whole, European ANSPs are more and more open to various providers. If you master technically your subject as a start-up, with perseverance and rigor, you stand your chance, something I would have never said only 5 years ago.
How did the realisation phase work? What did work as expected and what did not?
DSNA was well versed into SWIM through its early adoption of Eurocontrol NM B2B Services.
Our services are integrated as the MET technical brick of SWIMET architecture. The organic first customer of our services was naturally the 4Me project, a pioneer of web service integration in DSNA.
We developed a very fruitful relationship with the 4Me team and DSNA/DTI, the French ANSP's Directorate of Technology and Innovation. We are culturally close in our fast pace, pragmatic and result-oriented approach to innovation. Beyond the classical principle of agile development, the management was at the service of the tech/ops people with a clear goal of 6 weeks to deliver a system into operation.
What did not work?
The supplier selection process was pivotal to remove ambiguities and anticipate difficulties at the launch of the contract.
Like all projects, some early 'glitches' appeared on the way, for example on data format or semantic. What is important is how fast you overcome that kind of difficulties.
Main subject for discussion was the choice of visualization of weather information, particularly the fact that meteorology is a 4D information to be mostly displayed in 3D native system.
As July 2019 was the implementation deadline, decisions were made based on a proposal from 4Me developers team that happened to be also ATCOs.
Rather than going through lengthy meetings, they found a pragmatic approach to weather visualization so that the system was quickly accepted by ATCOs.
Overall, the technical integration of meteorological web services was fast and smooth, a fact that was already demonstrated in SESAR1. The subject of 4D objects visualization is now an issue on the table for ANSPs.
How does an ANSP compare to other customers?
ANSPs are under a lot of constraints: ATM is a complex system of systems, running 24h a day for decades with a mix of software, hardware, and humans, to deliver a high level of safety. Safety is the main driver of ANSPs policy. In perspective, few industries are under that type of constraints, possibly nuclear and banking sectors.
Compared with industry, ANSPs have a strong focus on processes as there are safety and certification issues at stake.
When dealing with ANSP, you must understand the weight of a legacy system, a criterion that may drive a lot of decisions.
Historically, ANSPs buy full packaged systems that they operate in-house. SWIM opens the doors to web service integration: ANSPs have to adapt their process to buy and commission services. These services can be operated from the cloud, outside of their physical technical perimeters.
The time variable is different with an ANSP, which can be frustrating for start-ups for whom time is the essence. We spoke about the procurement process for example. ATM system presents long lifecycle, a good example being Flight Plan Data Processing renewal in Europe. The services you propose as a start-up must integrate the different life cycles and smoothly move into existing ATM systems and programs.
However, the gap between industry and ANSPs is diminishing. ANSPs are evolving: most have understood the need for innovation and adopt practices from the industry. As it was recently pointed out in MarketRadar, some ANSPs even turn clearly into industrial providers.
What would be your advice to other small companies wanting to start working with ANSPs? What lessons did you learn from this project with DSNA?
The ANSP market is notoriously hard to penetrate. Safety, industrialization and operational deployment can be lengthy processes if not well anticipated.
Do not put your eggs in the same basket. Our services are aimed at ANSPs as well as industry. For example, in the first month of MetSafe creation, we developed and delivered at an early stage a dedicated expert meteorological web service to support Opticlimb, a fuel efficiency algorithm by Safety Line. This kind of early fast contract paves the way to enter the ANSPs market.
Start-ups are associated sometimes with some 'hype' in which you can easily get lost and which can harm you businesswise. You need to stay focused on operational use cases that deliver tangible benefits for the ATCOs rather than technology.
European programmes such as SESAR and Clean Sky offer opportunities to finance R&D, both alone or in a consortium. European programmes also give the much-needed credibility when you need your first references dealing with ANSPs.
With DSNA activities, we have learned that a real cultural change is happening in the approach to ATM innovation. The 4Me team is an example of agile team close to the ATC operation room that can deliver results within weeks and days rather than months and years. By discussing with other ANSPs, we know this approach backed by fast SWIM adoption is spreading, good news for us!
You are an early follower of the FoxATM Market Radar and by the way, thank you for opening our interview series. Would you mind telling us how it helps you developing your business?
I first followed your activities around the airport use of ADS-B, a collection of inspiring use cases. Like many start-ups, we exploit ADS-B, in our case to assess the quality of meteorological products. As a start-up, we need to follow and sometimes anticipate the pace of the market. I used to go through different ATM magazines and blogs, a time-consuming activity. With Market Radar, you deliver a one-stop shop for curated ATM information. The fact that you reached over 1100 subscribers in such a short time is a testimony to the quality of FoxATM Market Radar.
Particularly of interest to us, Market Radar delivers a lot of exposure to a wide range of ATM start-ups.
I appreciate the personal tone you give to it, and the fact that information is put in context and open for debate through LinkedIn.
Market Radar is kind of an all year long extension of the discussions you can engage in at the World ATM congress.
I definitely recommend it as an entry point to understand ATM technology and market trends.
Any final words you'd like to add?
We are open to information exchange about specific meteorological needs with any of your readers in the aviation industry.
Thank you for giving MetSafe the spotlight and the work you do for the ATM community.
References
www.metsafeatm.com
Twitter: @MetSafe_ATM, @MetSafe_Tech
4Me / DSNA: https://4me-atm.com/index.html
Opticlimb / Safety Line: https://www.safety-line.fr/des-solutions-adaptees/opticlimb/
smartSIS / Frequentis : https://www.frequentis.com/en/pr/latvian-air-traffic-controllers-increase-efficiency-frequentis-smartsis
---
About the author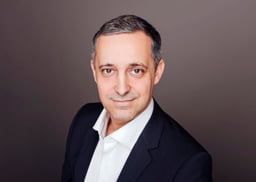 Vincent Lambercy is a freelance Air Traffic Management consultant with over 19 years of international experience in technical, project management and sales roles with various organisations. He is the CEO and founder of FoxATM and the editor of the FoxATM Market Radar where weekly reviews of the ATM, UTM and airport industries are published. Subscribe to the newsletter to never miss an update.
Andrej Nemec contributed to this article and reviewed it.