Micro Nav Ltd recently delivered a portable, voice activated ATC simulator to East Midlands Airport. This is the opportunity to discuss this project but also the simulation industry and more in an exclusive interview with Micro Nav's managing director Greg Pile.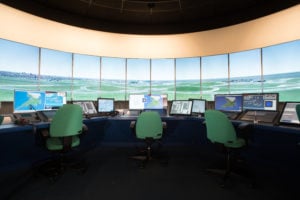 Market news
Innovation and research
Reports and trends
Drones corner
Joe Polastre, head of UTM products at Airbus UTM presented the integration of Airbus UTM and DroneDeploy during the DroneDeploy 2019 conference. The integrated solution provides briefings and LAANC authorisations in a seamless way. The integration is being tested in private beta. A full release will arrive in Q1 2020, as a web and mobile application.
NATS on technology
NATS completed the transition to electronic strips in the last of their control room, the London Terminal Control Center. At this occasion, NATS released a web page full of information on the technology, the project and how they managed the transition.
NATS also released a report on using technology to enhance arrivals and departures - This article resulting from SESAR 2020 projects details possible interactions between a systemised airspace management tool, an AMAN and Airport Demand Capacity Balancing.
Get more from the radar
We scan many information sources to keep thousands of readers informed via our linkedin page, our website and our newsletter. If you have information you want to share about your projects, products, researches or events, contact us at radar@foxatm.com to get on the radar.
Subscribe to our newsletter to get our weekly reviews directly to your inbox. You will also receive our industry directory when you subscribe.